Customer Service Solutions Education
An education program that flexes with
your needs and budget
Clinical Services Flex Account
Providing high quality care in the face of rising costs, expanding patient volumes, and shrinking resources is a challenge. Education plays a critical role in addressing these challenges. Improve your clinical and financial results by developing your people.
Assess staff clinical apps and product proficiency
Gauge results against plan
Deliver onsite and classroom training
Structure training plan to fill knowledge gaps
Define objectives, training priorities and timetable
Benefits
Control timing: Draw down any time, any amount over the entire account period
Enhance ROI: Focus limited training dollars on evolving growth areas
Stay current: Stay abreast of the latest clinical procedures
Eliminate guesswork: No need to predict training needs in a dynamic environment
Develop motivated and skilled staff: Invest in professional development to consistently deliver quality care
Program overview
Concept: Similar to a gift card, clinical education may be purchased in a convenient block
Consultation: A clinical education project manager will consult with you to assist in designing a customized program
Coverage: Select courses from one or all modalities within extensive clinical education course catalog
Term: 3-year term with flexible options available
Usage reporting: Account statements available
Course catalog offerings
Select any combination of courses and learning formats that suits your needs. For offsite courses you may select from our convenient travel packages.
Clinical education courses are designed to meet the needs of technologists, sonographers, anesthesiologists, physicians, radiation oncologists, medical physicists, dosimetrists, and therapists. Choose programs suited to meet the needs of all professionals, from novice to advanced.
Types of training available
A variety of educational formats designed to enhance learning.
At your site
Customized education
Advanced procedures
Hands-on functionality, workflow, patient preparation, image acquisition, coaching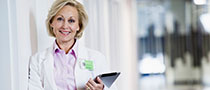 Classroom
Imaging systems courses taught at an on-site education center
Ultrasound courses taught in multiple locations
Travel packages available
Peer-to-Peer
Attendees will accompany physician instructors during actual cases
Multiple settings such as the echocardiography lab, operating room, or the catheterization lab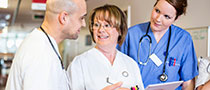 Virtual, instructor-led
Remote Services technology makes it possible to refresh skills on advanced clinical procedures, guided by a expert – seeing the images you are seeing in real time
Convenient, one to four hour sessions