DoseWise Education
Take control of radiation safety and
dose management
Are you DoseWise? We offer both clinical and product trainings in various format for your dose education needs.
Our clinical education portfolio covers many dose management topics, including radiation physics, dose optimization, safety culture, quality and compliance.
You can also find product trainings to help you get the most out of Philips DoseWise technologies.
DoseWise Education Events and Resources
DoseWise Portal Tutorial Videos
DoseWise Portal gives you more control over radiation dose data. Get started with these short how-to videos.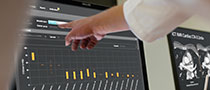 Radiation Safety Education
Meet the Philips DoseWise Portal, a comprehensive patient and staff radiation dose tracking and monitoring solution!
The DoseWise Portal is a first in the industry to combine real-time staff radiation dose monitoring with patient radiation dose. This multi-vendor and multi-modality software allows you to take control of your dose management program by enabling a quick response, continuous improvement and informed decision making.