Patient Monitoring Education
Application education and
performance support
Delivering clear information at the point of need. Our patient monitoring portfolio of continuing education and resources provides actionable, care-specific information when and where it's needed.
With Philips Healthcare Education, you have the opportunity to access a wide variety of patient monitoring courses, training events, and on demand knowledge support resources in the way that is most convenient for you.
Patient Monitoring Focus Areas
Patient Monitoring Product Resources
Efficia CM Series
When both budget and quality matter, the choice is Efficia CM Series patient monitors.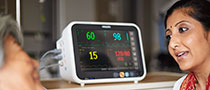 Clinical Services Learning Catalog - Essential
Get the most of your technology by investing in your ability to confidently and thoroughly use it.