Radiation Oncology Education
Specialized technical and clinical training
designed for the professional
Learn to make the most of Pinnacle3 treatment planning in a clinical setting – to help streamline workflow and enhance patient care.
Become proficient in Pinnacle3 applications and elevate problem-solving skills via real-world case studies.
Discover how to reduce operational costs by reducing errors, exam times, and retakes.

Monthly remote peer-to-peer trainings designed for all users, both new and experienced, who want an overview and better understanding of Pinnacle³ and its applications.
Radiation Oncology Focus Areas
Radiation Oncology Events and Resources
Pinnacle3 Recorded Webinars
Expert knowledge and perspectives on radiation treatment simulation and planning through our recorded webinars.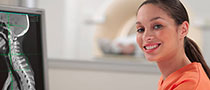 Pinnacle3 How To Videos
These how to videos will help you to advance your Pinnacle3 treatment planning applications knowledge.