Efficia CM Patient Monitor
Performance Support
How-To Videos
Philips Value Products, when budget and quality matter the choice is Philips Efficia patient monitoring. In tune with your needs, we offer a value range of patient monitors backed by our time-tested measurement algorithms.
Efficia & IntelliVue Education Resources
The how-to videos on this page will help you to get started using your Efficia Patient Monitor quickly. When you are more comfortable and confident using the equipment, you can spend more time caring for your patients. Visit this page often to view additional basic and advanced software trainings as they become available. This material is not intended to substitute or replace the Operating Manual or Instructions for Use.
This learning module will provide guidance on basic operation of the Efficia patient monitor.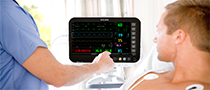 Guidance on the installation and configuration of the Efficia patient monitor.