Ultrasound Accreditation
Assist Program
Simplify your ultrasound quality
control process
The Philips Ultrasound Accreditation Assist Program
In today's challenging healthcare environment, maintaining the quality and performance of your medical imaging systems is critical. The American College of Radiology (ACR) and other accrediting bodies require healthcare facilities to create a standardized quality control program for imaging and patient safety. The Philips team of highly skilled Clinical Education Specialists and Field Service Engineers can help you meet your accreditation needs with our comprehensive Ultrasound Accreditation Assist Program. We'll help simplify your ultrasound quality control process and maintain your accreditation status. The benefit for you is more time to focus on patient care.
Program Overview
Skilled Philips Field Service Engineers will perform an annual system performance evaluation meeting all ACR requirements in conjunction with a scheduled Planned Maintenance service. Eliminating a separate meeting allows you more time for patient care.*
Professionally trained Philips Clinical Education Specialists will complete the required quality control and provide consultation on accreditation processes and documentation. Based on your staffing capacity, they can also train your sonographers to complete the testing.
As a bonus, with the Ultrasound Accreditation Assist Program, you will receive login access to the ASRT accredited introductory eLearning course "Quality Control in Ultrasound Lab Accreditation".
With a Clinical Education Flex Account, you can reserve funds for continuing education for your staff accreditation needs.
*Planned Maintenance is an entitlement of a service agreement. If no service agreement is in place, additional Planned Maintenance is required.
How It Works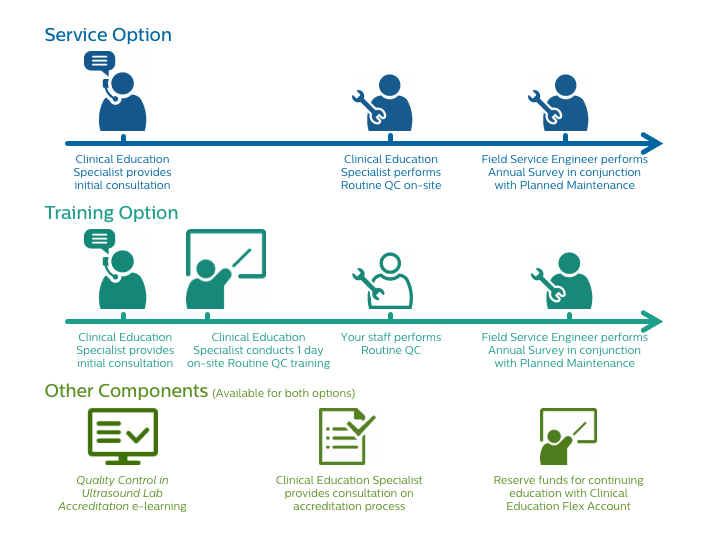 Program Options
Service


We take care of Routine QC

Training


We prepare your staff to perform Routine QC
Routine Quality Control
Performed annually by Philips Clinical Education Specialists
Your staff will learn how to perform testing in a 1-day onsite training session
Planned Maintenance / Annual Survey
Entitled in service agreement (if any) performed by Philips Field Service Engineers
Entitled in service agreement (if any) performed by Philips Field Service Engineers
Accreditation Consultation
Included
Included
eLearning Course
Included
Included
Clinical Education Flex Account
Optional
Optional
Accreditation Assist Program Contact Us
To consult with one of our Clinical Education Resource Specialists, please call 1-800-522-7022 for Ultrasound Systems.

Ultrasound Routine Quality Control
Ultrasound Hospital Accreditation Requirements
Learn more about your hospital accreditation requirements: